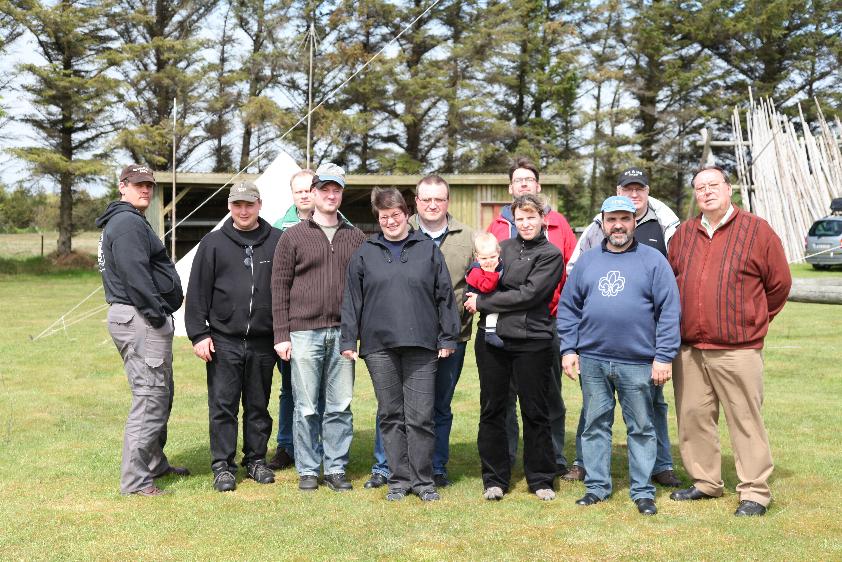 participants (from left to right):
Gaby (DM1CG), Dirk (DM1DZ), Tobi (DL4KBS), Matze (DL9BQ), Tina (DG1ACZ), Sven (DL5ABB),
Julia with Ida, Lothar (DH1LM), Günni (DL9BCP), Holgi (DM6HB), Klaus (DC4NA)
1. equipment





Station

Band

Mode

Antenna (*=homemade)


tent 1 40m SSB 4-Square-Array (*)


tent 2 10m/15m/20m SSB 2-ele-3-Band Moxon-Beam (*)
20m 4-Square-Array (*)


tent 3 80m SSB, BPSK31 4-Square-Array (*)


tent 4 2m JT65, FSK441, SSB 2x 9-ele-Crossed-Yagi
4m SSB 2-ele-Yagi
6m SSB 2-ele-Yagi
30m BPSK31 4-Square-Array (*)





2. peculiarity



- Via EME we worked 34 QSO on 2m, including the EME-DXpedition 3B8EME!
- For the first time 70MHz (4m-Band) was tested in SSB (North Spain and Portugal were reached)
- On the area were pursued at the same time Four 4-Square-Arrays (20 m, 30 m, 40 m, 80m).
Controller, control devices, coaxkabel-segments, radials (7 pieces, each 1/4 Lambda) and verticals
in addition were made before in the wintertime during some construction week-ends.
- 4-SQ for 80 m was pursued with shortened verticals (12-m-long glassfiber-poles), which got their
right electrical length by a coil, positioned in the middle of the vertical (D = 105 mm; l = 40 mm;
N = 12.5 bends; L approx. 21 µ H). Centre frequency: 3.76 MHz.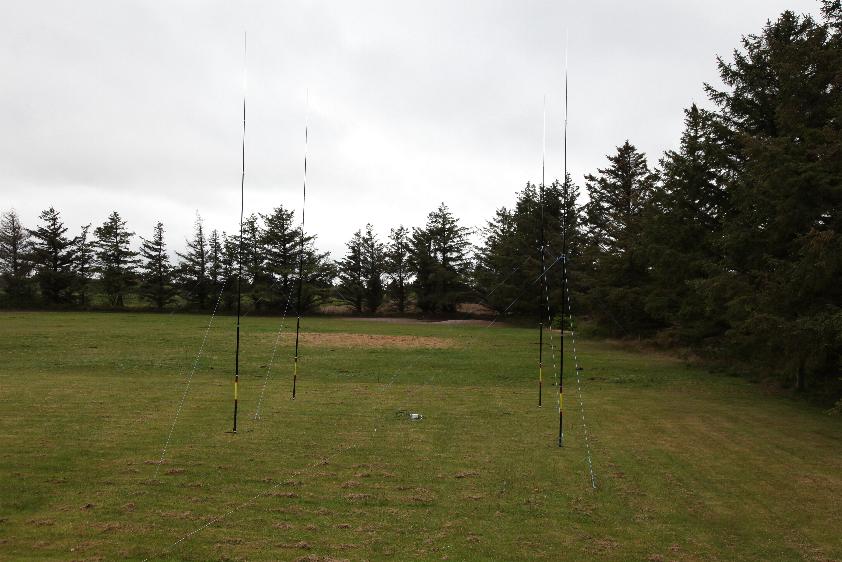 4-Square-Array for 30m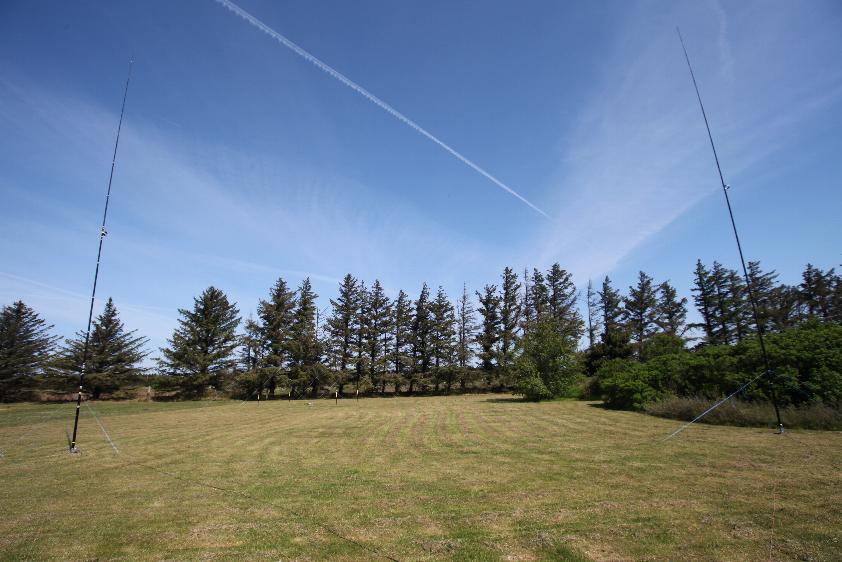 In the backround the 4-SQ for 30m, in the foreground parts of the 80m-4SQ-Array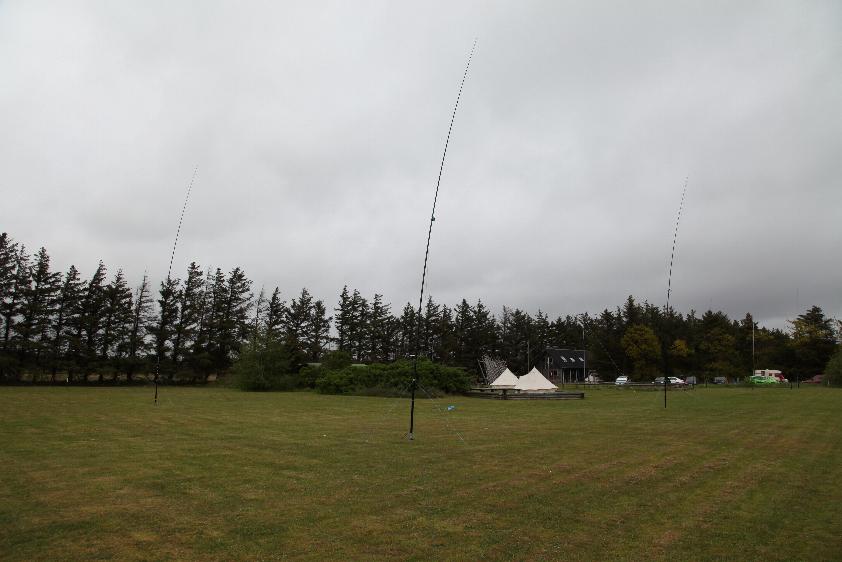 From 80m-4-Square-Array going out a look diagonally about the area
The glassfiber-pole for a vertical.
The earth net encloses 7 radials, 1/4 Lambda long.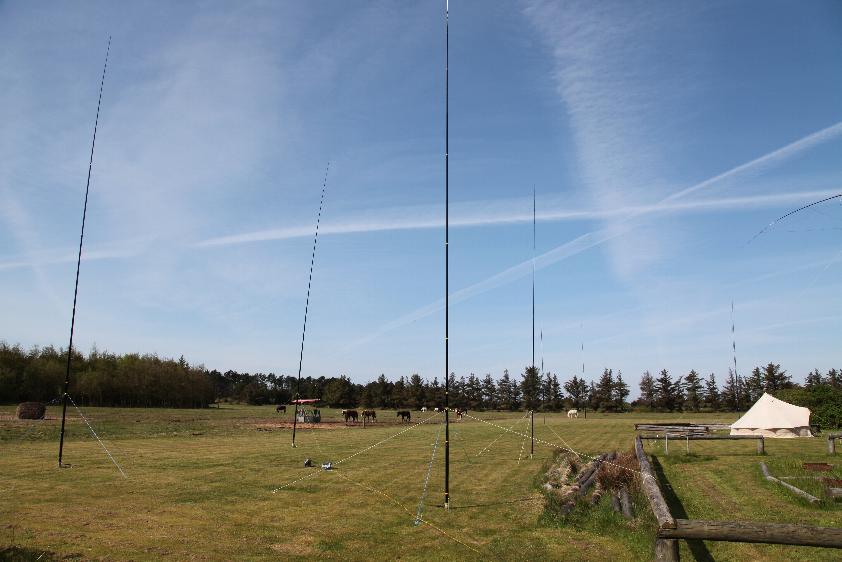 4-Square for the 40m-band, behind it for 80 m.
In the middle controller for the direction change-over and Dummyload.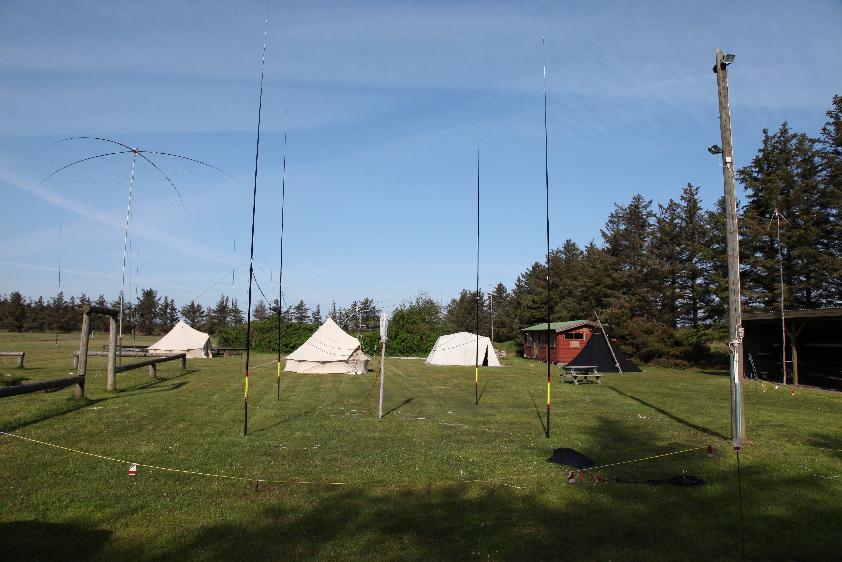 4Square-Array for the 20m-band. Vertical exported as triple-leg in 8-m-high poles.
To the left of it the turnable 2ele-beam.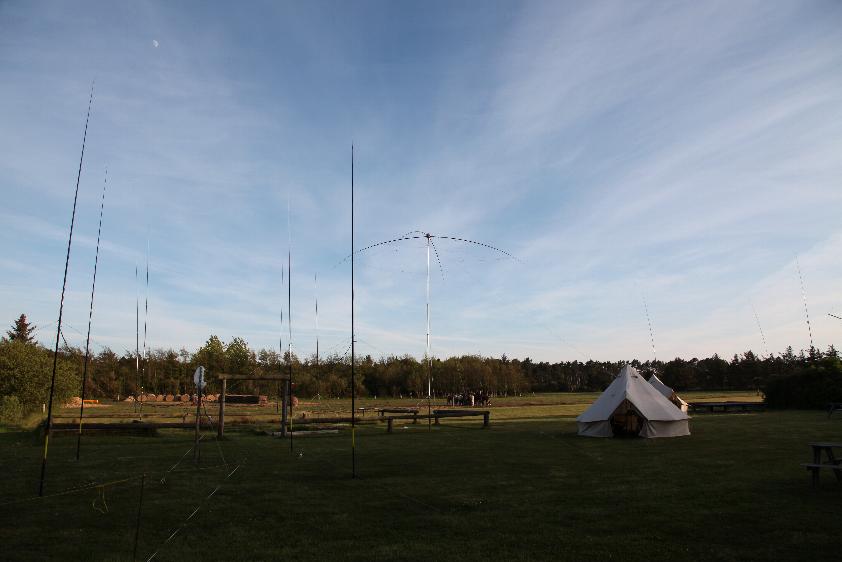 In the foreground 20m-4SQ, then 2-ele-beam, behind it 4SQ for 40m. At the right corner 4SQ-80m.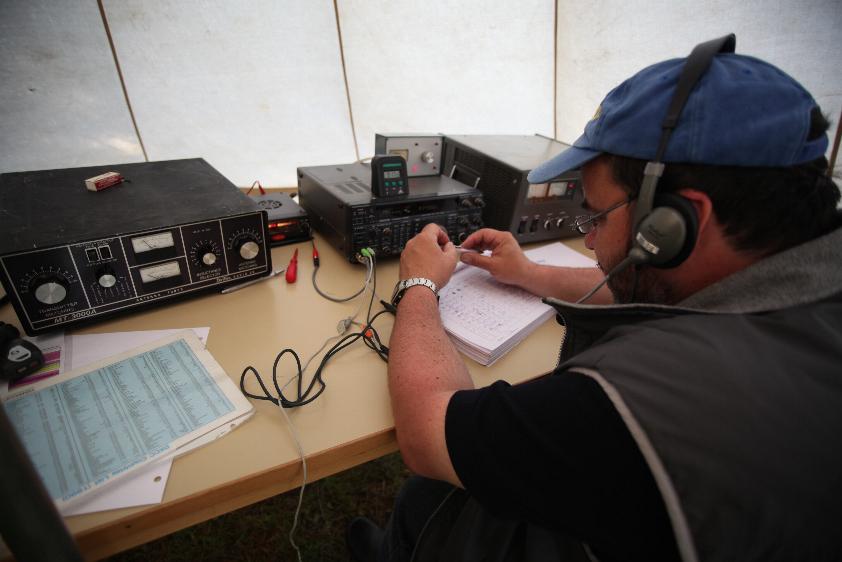 Günni at the 40m-station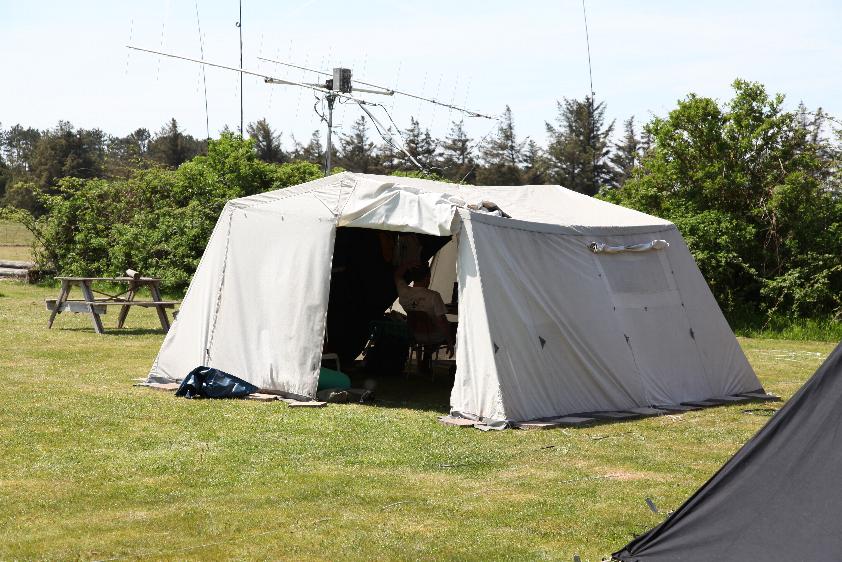 radio-tent for the stations 2m EME and 30m BPSK.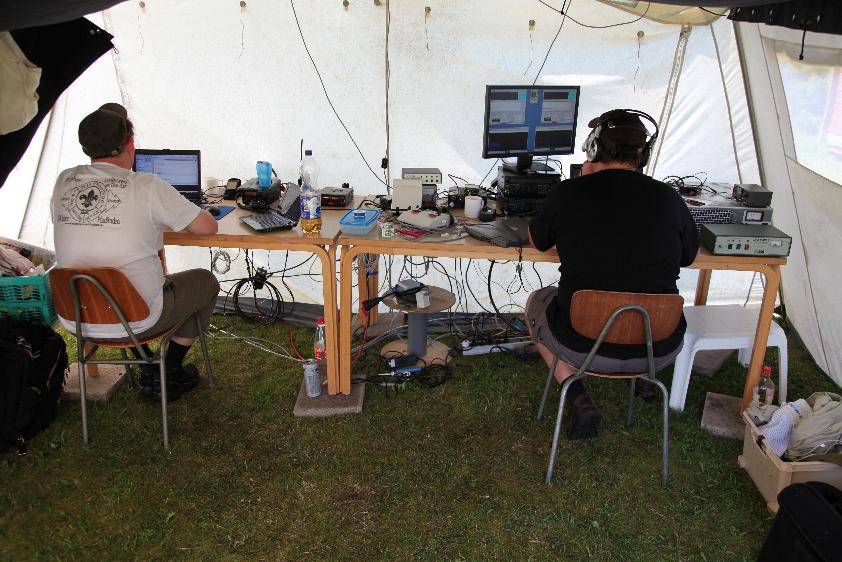 Dirk with BPSK31 on 30m (left) and Gaby with WSJT on 2m EME (right) in action
2m-EME-antenna-system straightened on the moon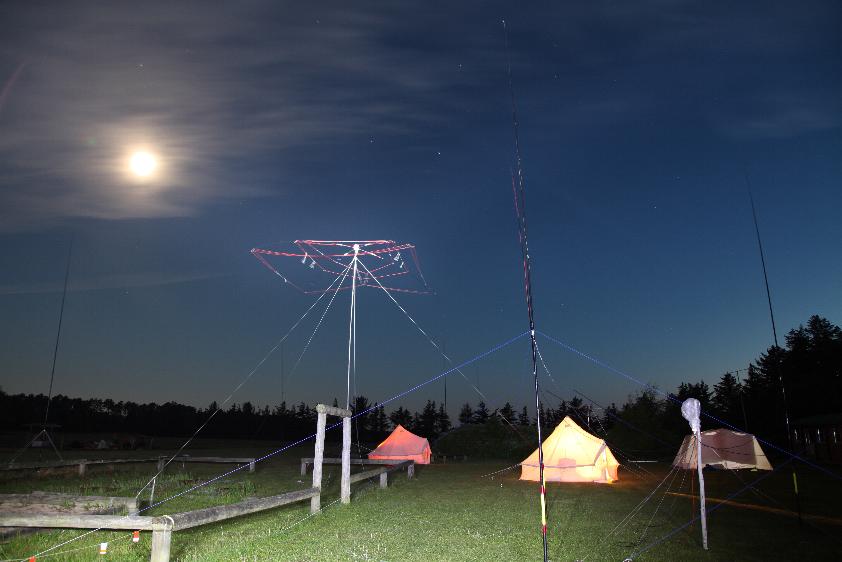 The 20m-antennas by night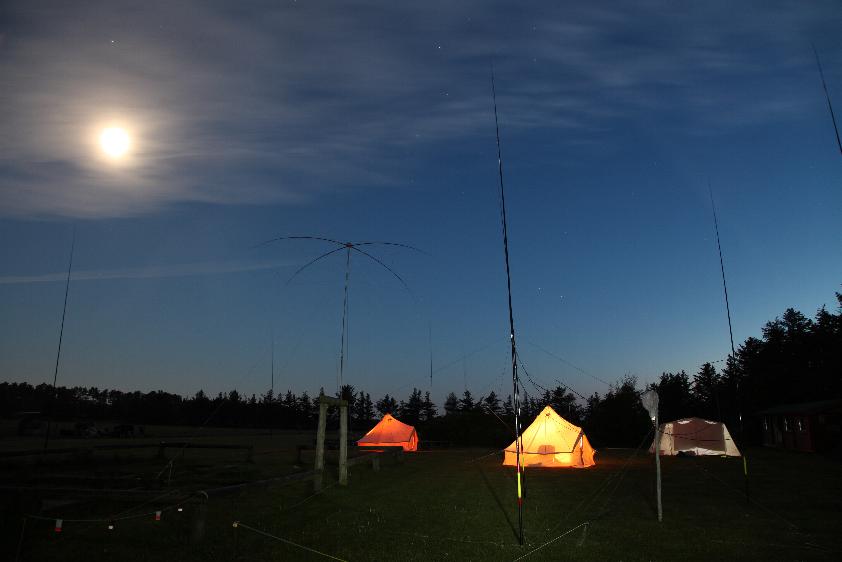 ... and without flash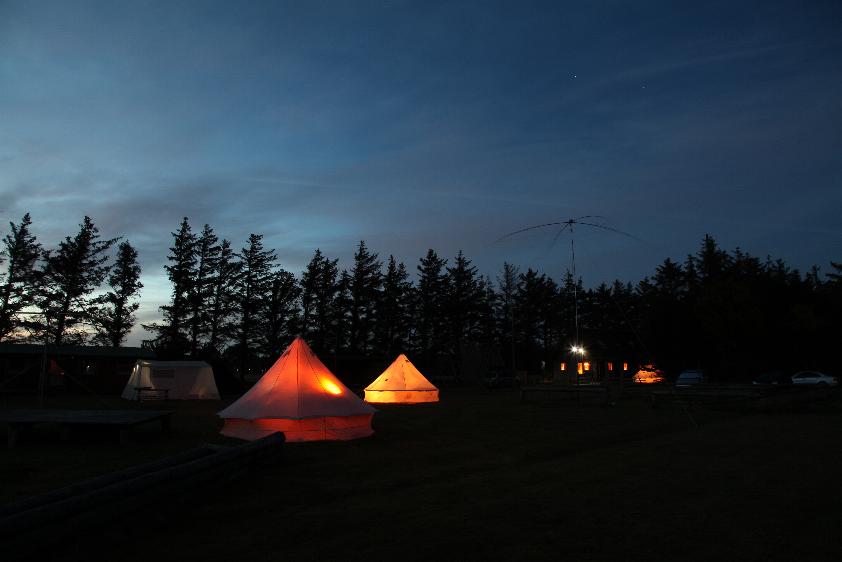 Activ radio activity in all four tents.