OZ1RDP - DXCC-countries
(1995 - 2015)

The first letters and figures of an amateurradio-callsign is named "prefix". It shows the home country of the given radiostation. Besides the "DX Century Club" (DXCC) of the American Radio Relay League (ARRL) worldwide actual 355 DXCC-countries are valid. During their yearly whitsun-activities OZ1RDP made contacts to 164 DXCC-countries - partly on different amateurradio-bands. In all 618 country-contacts on different amateurradio-bands are in the log.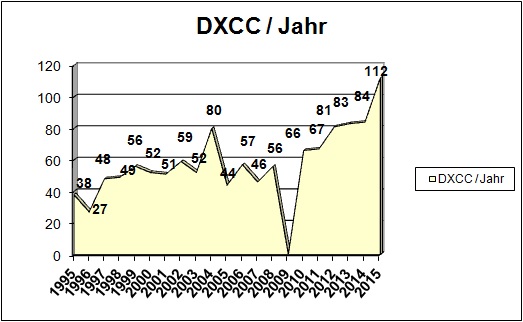 The following tables show - devided into continents - what DXCC-countries were contacted by OZ1RDP on which amateurradio-bands.
This could be 1 QSO (D2 / Angola) or 5.461 QSOs (DL / Germany) p.ex on the 40m-band.

Europe: 60 DXCC-countries

| | | | | | | | | | | | | | | | | | | |
| --- | --- | --- | --- | --- | --- | --- | --- | --- | --- | --- | --- | --- | --- | --- | --- | --- | --- | --- |
| DXCC | countries MHz | 1200 | 430 | 144 | 70 | 50 | 28 | 24 | 21 | 18 | 14 | 10 | 7 | 5 | 3,6 | 1,8 | | total |
| 4O | - Montenegro | | | | | | | | | | 2 | | | | | | | 1 |
| 4U | - ITU Geneva | | | | | | | | | | 1 | | | | | | | 1 |
| 9A | - Croatia | | | | | 31 | 7 | | 11 | 2 | 89 | 9 | 34 | | 2 | | | 185 |
| 9H | - Malta | | | | | 4 | | | 7 | | 3 | 2 | 3 | | | | | 19 |
| C3 | - Andorra | | | | | | 1 | | | | 2 | | 2 | | | | | 5 |
| CT | - Portugal | | | | 1 | 2 | | | 8 | 1 | 52 | 5 | 34 | | 2 | | | 105 |
| CU | - Azores | | | | | | 1 | | 4 | 1 | 6 | 2 | 9 | | | | | 23 |
| DL | - Germany | 3 | 14 | 405 | | 25 | 22 | 1 | 134 | 14 | 450 | 89 | 5.461 | | 664 | 7 | | 7.289 |
| E7/T9 | - Bosnia-Herzegovina | | | | | 1 | | | 4 | | 15 | 2 | 12 | | | | | 34 |
| EA | - Spain | | | | 1 | 13 | 12 | | 71 | 8 | 344 | 30 | 167 | | 12 | | | 658 |
| EA6 | - Balearic Islands | | | 1 | | 1 | 3 | | 3 | | 16 | | 7 | | | | | 31 |
| EI | - Ireland | | | | | 2 | 1 | | 7 | 3 | 21 | 2 | 45 | 2 | 3 | | | 86 |
| ER | - Moldova | | | | | 1 | 1 | | 1 | 1 | 8 | 1 | 3 | | | | | 16 |
| ES | - Estonia | | | 1 | | 3 | 1 | | 7 | | 12 | 6 | 7 | | 3 | | | 40 |
| EU | - Belarus | | | | | | 3 | | 4 | 2 | 15 | 4 | 7 | | 4 | | | 39 |
| F | - France | | | 8 | | 25 | 17 | | 61 | 6 | 261 | 43 | 318 | | 8 | 1 | | 748 |
| G | - England | | | 10 | | 38 | 19 | | 55 | 18 | 218 | 31 | 1.051 | 29 | 42 | 5 | | 1.516 |
| GD | - Isle of Man | | | | | | | | | | 1 | 1 | 7 | 1 | 1 | | | 11 |
| GI | - Northern Ireland | | | | | 3 | 5 | | 6 | | 23 | 4 | 71 | 2 | 3 | | | 117 |
| GJ | - Jersey | | | | | | | | 1 | | 2 | 1 | 3 | | 1 | | | 8 |
| GM | - Scotland | | | | | | 5 | | 8 | 5 | 44 | 5 | 126 | 3 | 8 | | | 204 |
| GU | - Guernsey | | | | | | | | | | 1 | 1 | | | 1 | | | 3 |
| GW | - Wales | | | | | 7 | 6 | | 8 | 1 | 17 | 8 | 84 | 3 | 1 | | | 135 |
| HA | - Hungary | | | 2 | | 1 | 7 | | 24 | 5 | 84 | 19 | 32 | | 1 | | | 175 |
| HB0 | - Liechtenstein | | | | | | | | | | 1 | 1 | 2 | | | | | 4 |
| HB9 | - Switzerland | | 1 | 2 | | 5 | 5 | | 34 | 2 | 54 | 14 | 118 | | 5 | | | 240 |
| I | - Italy | | 1 | 14 | | 140 | 14 | | 147 | 14 | 656 | 109 | 567 | | 18 | | | 1.680 |
| IS | - Sardinia | | | | | 7 | 2 | | 1 | 1 | 11 | | 3 | | 1 | | | 26 |
| JW | - Svalbard | | | | | | | | | | 2 | | 1 | | | | | 3 |
| LA | - Norway | | | 4 | | 1 | | | 8 | 1 | 37 | 1 | 110 | | 18 | | | 180 |
| LX | - Luxembourg | | | | | | | | 2 | | 9 | 1 | 25 | | | | | 37 |
| LY | - Lithuania | | | | | 3 | | | 8 | 1 | 25 | 3 | 13 | | 9 | | | 62 |
| LZ | - Bulgaria | | | | | 13 | | | 3 | 3 | 53 | 1 | 12 | | | | | 85 |
| OE | - Austria | | | | | 17 | 2 | 1 | 27 | 5 | 93 | 11 | 216 | | 8 | | | 380 |
| OH0 | - Aland-Inseln | | | | | | | | | | 1 | | | | | | | 1 |
| OH | - Finnland | | | 3 | | 9 | 2 | | 22 | 1 | 50 | 5 | 29 | | 3 | | | 124 |
| OK | - Czech Republic | | | 5 | | 9 | 3 | | 11 | | 74 | 32 | 108 | | 13 | | | 255 |
| OM | - Slowak Republic | | | | | 5 | 2 | | 10 | | 37 | 8 | 18 | | 2 | | | 82 |
| ON | - Belgium | | | 16 | | | 1 | | 11 | 1 | 75 | 4 | 344 | | 14 | | | 466 |
| OY | - Faroe-Islands | | | 1 | | | | | 1 | | 1 | | 1 | | | | | 4 |
| OZ | - Denmark | | | 45 | | 14 | 1 | 1 | 2 | | 19 | 3 | 91 | 1 | 41 | 1 | | 219 |
| PA | - Netherlands | | | 94 | | 6 | | | 7 | | 32 | 4 | 299 | | 34 | 5 | | 481 |
| S5 | - Slovenia | | | 3 | | 17 | 2 | | 9 | 1 | 50 | 6 | 29 | | 2 | | | 119 |
| SM | - Sweden | | | 20 | | 7 | 5 | | 10 | 2 | 43 | 1 | 122 | | 14 | 1 | | 225 |
| SP | - Poland | | | 1 | | 17 | 11 | | 44 | 3 | 173 | 52 | 227 | | 28 | | | 556 |
| SV | - Greece | | | 1 | | 2 | | | 26 | | 73 | 8 | 32 | | 1 | | | 143 |
| SV5 | - Dodecanese | | | | | | | | 2 | | 4 | | 1 | | | | | 7 |
| SV9 | - Creta | | | | | | | | 3 | | 7 | 2 | | | | | | 12 |
| T7 | - San Marino | | | | | 1 | | | | | 1 | | | | | | | 2 |
| TA | - Turkey (Europe) | | | | | | | | | 1 | 1 | | 2 | | | | | 4 |
| TF | - Iceland | | | 1 | | | | | | | 8 | 1 | 7 | | 1 | | | 18 |
| TK | - Corsica | | | | | 1 | | | 1 | 1 | 2 | | 3 | | | | | 8 |
| UA | - European Russia | | | 11 | | | 11 | | 122 | 13 | 396 | 118 | 119 | | 11 | | | 801 |
| UA2 | - Kaliningrad | | | | | | | | 4 | | 3 | 2 | 3 | | 1 | | | 13 |
| UR | - Ukraine | | | 3 | | 8 | 20 | | 49 | 6 | 255 | 74 | 81 | | 6 | | | 502 |
| YL | - Latvia | | | | | | | | 8 | | 11 | 1 | 7 | | 6 | | | 33 |
| YO | - Romania | | | 2 | | 10 | 12 | | 21 | 3 | 81 | 14 | 31 | | 3 | | | 177 |
| YU | - Serbia | | | 2 | | 16 | 2 | | 9 | | 43 | 7 | 18 | | 3 | | | 100 |
| Z3 | - Macedonia | | | | | 1 | | | | | 9 | 1 | 1 | | | | | 12 |
| ZA | - Albania | | | | | 1 | | | 1 | | 1 | | | | | | | 3 |
| DXCC | countries MHz | 1200 | 430 | 144 | 70 | 50 | 28 | 24 | 21 | 18 | 14 | 10 | 7 | 5 | 3,6 | 1,8 | | |
Africa: 23 DXCC-countries
| | | | | | | | | | | | | | | | | | | |
| --- | --- | --- | --- | --- | --- | --- | --- | --- | --- | --- | --- | --- | --- | --- | --- | --- | --- | --- |
| DXCC | countries MHz | 1200 | 430 | 144 | 70 | 50 | 28 | 24 | 21 | 18 | 14 | 10 | 7 | 5 | 3,6 | 1,8 | | total |
| 3B8 | - Mauritius | | | 1 | | | | | | | | | | | | | | 1 |
| 3B9 | - Rodrigues Island | | | | | | | | 1 | | | | | | | | | 1 |
| 3V | - Tunesia | | | | | | | | 1 | | | | | | | | | 1 |
| 5N | - Nigeria | | | | | | | | | | 1 | | | | | | | 1 |
| 5Z | - Kenya | | | | | | | | 2 | | 1 | | 1 | | | | | 4 |
| 6W | - Senegal | | | | | | | | | | 1 | 1 | | | | | | 2 |
| 7X | - Algeria | | | | | | | | 8 | | 3 | | 3 | | | | | 14 |
| CN | - Morocco | | | | | | | | | | 1 | | 7 | | | | | 8 |
| CT3 | - Madeira | | | | | 1 | | | | | 10 | | | | | | | 11 |
| D2 | - Angola | | | | | | | | | | | | 1 | | | | | 1 |
| D4 | - Cape Verde | | | | | | | | 1 | | | | | | | | | 1 |
| EA8 | - Canary Islands | | | | | 1 | 1 | | 13 | | 14 | 4 | 20 | | | | | 53 |
| EA9 | - Ceuta + Melilla | | | | | | | | | 2 | 2 | | 3 | | | | | 7 |
| J2 | - Djibouti | | | | | | | | 1 | | | | | | | | | 1 |
| SU | - Egypt | | | | | | | | | | 3 | | 1 | | | | | 4 |
| T5 | - Somalia | | | | | | | | 1 | | | | | | | | | 1 |
| TN | - Republic of the Congo | | | | | | | | 1 | | | | | | | | | 1 |
| TR | - Gabun | | | | | | | | 1 | | 1 | | | | | | | 2 |
| TY | - Benin | | | | | | | | 1 | | | | | | | | | 1 |
| TZ | - Mali | | | | | | | | | | | | 1 | | | | | 1 |
| V5 | - Namibia | | | | | | | | 1 | | | | | | | | | 1 |
| Z2 | - Zimbabwe | | | | | | 1 | | | | | | | | | | | 1 |
| ZS | - South Africa | | | | | | 1 | | 8 | | | | 2 | | | | | 11 |
| DXCC | countries MHz | 1200 | 430 | 144 | 70 | 50 | 28 | 24 | 21 | 18 | 14 | 10 | 7 | 5 | 3,6 | 1,8 | | |
North America: 31 DXCC-countries
| | | | | | | | | | | | | | | | | | | |
| --- | --- | --- | --- | --- | --- | --- | --- | --- | --- | --- | --- | --- | --- | --- | --- | --- | --- | --- |
| DXCC | countries MHz | 1200 | 430 | 144 | 70 | 50 | 28 | 24 | 21 | 18 | 14 | 10 | 7 | 5 | 3,6 | 1,8 | | total |
| 6Y | - Jamaica | | | | | | | | | | | | 2 | | | | | 2 |
| 8P | - Barbados | | | | | | | | 1 | | 1 | | | | | | | 2 |
| A,K,N,W | - United States of America | | | 10 | | 1 | | | 107 | 6 | 907 | 116 | 184 | | 1 | | | 1.332 |
| C6 | - Bahamas | | | | | | | | | | | | 1 | | | | | 1 |
| CO | - Cuba | | | | | | | | 6 | 1 | 3 | 4 | 12 | | | | | 26 |
| FG | - Guadeloupe | | | | | | | | 1 | | | | 1 | | | | | 2 |
| FJ | - Saint Martin | | | | | | | | | | 1 | | | | | | | 1 |
| FM | - Martinique | | | | | | | | | | 3 | | 1 | | | | | 4 |
| HH | - Haiti | | | | | | | | | | 2 | | | | | | | 2 |
| HI | - Dominican Republic | | | | | | | | | | 1 | 1 | 1 | | | | | 3 |
| HP | - Panama | | | | | | | | 2 | | 5 | 1 | 1 | | | | | 9 |
| HR | - Honduras | | | | | | | | | | 1 | 1 | 2 | | | | | 4 |
| J6 | - St. Lucia | | | | | | | | 2 | | | | 1 | | | | | 3 |
| J7 | - Dominica | | | | | | | | | | 2 | | | | | | | 2 |
| KL | - Alaska | | | | | | | | | | 1 | | | | | | | 1 |
| KP2 | - Virgin Island | | | | | | | | | | 3 | | 2 | | | | | 5 |
| KP4 | - Puerto Rico | | | | | | | | 5 | | 16 | 4 | 9 | | | | | 34 |
| OX | - Greenland | | | | | | | | | | 2 | | | | | | | 2 |
| PJ7 | - St. Maarten | | | | | | | | 1 | | | | | | | | | 1 |
| TG | - Guatemala | | | | | | | | | 1 | | | | | | | | 1 |
| TI | - Costa Rica | | | | | | | | | | 2 | | 2 | | | | | 4 |
| V2 | - Antigua | | | | | | | | | | 1 | | | | | | | 1 |
| V3 | - Belize | | | | | | | | | | | | 1 | | | | | 1 |
| V4 | - Saint Kitts | | | | | | | | | | 2 | | 2 | | | | | 4 |
| VE | - Canada | | | | | | | | 15 | 1 | 86 | 14 | 45 | | | | | 161 |
| VP2E | - Anguilla | | | | | | | | 1 | | | | 1 | | | | | 2 |
| VP5 | - Turks & Caicos Islands | | | | | | | | | | 1 | | | | | | | 1 |
| VP9 | - Bermuda | | | | | | | | | | 1 | | 1 | | | | | 2 |
| XE | - Mexico | | | | | | | | | | 1 | | | | | | | 1 |
| YN | - Nicaragua | | | | | | | | | | | | 1 | | | | | 1 |
| YS | - El Salvador | | | | | | | | | | 1 | | | | | | | 1 |
| DXCC | countries MHz | 1200 | 430 | 144 | 70 | 50 | 28 | 24 | 21 | 18 | 14 | 10 | 7 | 5 | 3,6 | 1,8 | | |
South America: 16 DXCC-countries
| | | | | | | | | | | | | | | | | | | |
| --- | --- | --- | --- | --- | --- | --- | --- | --- | --- | --- | --- | --- | --- | --- | --- | --- | --- | --- |
| DXCC | countries MHz | 1200 | 430 | 144 | 70 | 50 | 28 | 24 | 21 | 18 | 14 | 10 | 7 | 5 | 3,6 | 1,8 | | total |
| 9Y | - Trinidad & Tobago | | | | | | | | | | 3 | | 1 | | | | | 4 |
| CE | - Chile | | | | | | | | 2 | | 5 | | 15 | | | | | 22 |
| CP | - Bolivia | | | | | | | | 1 | | 3 | | | | | | | 4 |
| CX | - Uruguay | | | | | | 2 | | 4 | | 2 | 2 | 13 | | | | | 23 |
| FY | - French Guayana | | | | | | | | | | | | 1 | | | | | 1 |
| HC | - Ecuador | | | | | | | | | | 4 | | | | | | | 4 |
| HK | - Colombia | | | | | | | | 1 | | 7 | | 7 | | | | | 15 |
| LU | - Argentina | | 1 | | | | 19 | | 27 | 1 | 28 | 2 | 21 | | | | | 99 |
| OA | - Peru | | | | | | | | 1 | | 1 | | | | | | | 2 |
| P4 | - Aruba | | | | | | | | 2 | | 2 | | 3 | | | | | 7 |
| PJ2 | - Curacao | | | | | | | | 2 | | 2 | | 2 | | | | | 6 |
| PJ4 | - Bonaire | | | | | | | | | | 1 | | | | | | | 1 |
| PY | - Brazil | | | | | | 11 | | 51 | 2 | 41 | 2 | 89 | | | | | 196 |
| PZ | - Suriname | | | | | | | | 1 | 1 | 1 | | | | | | | 3 |
| YV | - Venezuela | | | | | | | | 5 | | 10 | 3 | 49 | | | | | 67 |
| ZP | - Paraguay | | | | | | 1 | | 1 | | 4 | | 6 | | | | | 12 |
| DXCC | countries MHz | 1200 | 430 | 144 | 70 | 50 | 28 | 24 | 21 | 18 | 14 | 10 | 7 | 5 | 3,6 | 1,8 | | |

Asia: 27 DXCC-countries

| | | | | | | | | | | | | | | | | | | |
| --- | --- | --- | --- | --- | --- | --- | --- | --- | --- | --- | --- | --- | --- | --- | --- | --- | --- | --- |
| DXCC | countries MHz | 1200 | 430 | 144 | 70 | 50 | 28 | 24 | 21 | 18 | 14 | 10 | 7 | 5 | 3,6 | 1,8 | | total |
| 3W | - Vietnam | | | | | | | | 1 | | | | | | | | | 1 |
| 4J | - Azerbaijan | | | | | | | | 1 | | 1 | | | | | | | 2 |
| 4L | - Georgia | | | | | | | | 1 | | | | | | | | | 1 |
| 4X | - Israel | | | | | | 2 | | 7 | | 22 | 1 | 6 | | | | | 38 |
| 5B | - Cyprus | | | | | | 1 | | 2 | | 3 | | | | | | | 6 |
| 9K | - Kuwait | | | | | | | | 2 | | 1 | | 1 | | | | | 4 |
| 9M2 | - West-Malaysia | | | | | | | | 1 | | | | | | | | | 1 |
| A4 | - Oman | | | | | | | | 1 | | | | | | | | | 1 |
| A6 | - United Arab Emirates | | | | | | | | 6 | 1 | 2 | | 1 | | | | | 10 |
| A7 | - Qatar | | | | | | | | 1 | | 2 | | | | | | | 3 |
| BV | - Taiwan | | | | | | | | 1 | | | | | | | | | 1 |
| BY | - China | | | | | | | | 1 | | | | | | | | | 1 |
| EK | - Armenia | | | | | | 1 | | | | | 1 | | | | | | 2 |
| EY | - Tajikistan | | | | | | | | 2 | | 1 | | | | | | | 3 |
| EZ | - Turkmenistan | | | | | | | | | | 1 | | | | | | | 1 |
| HL | - South Korea | | | | | | | | 5 | | 1 | | | | | | | 6 |
| HS | - Thailand | | | | | | | | 1 | 1 | 4 | | | | | | | 6 |
| HZ | - Saudi Arabia | | | | | | 1 | | 2 | | 3 | | | | | | | 6 |
| JA | - Japan | | | 1 | | | | | 156 | 2 | 26 | | 1 | | | | | 186 |
| JY | - Jordan | | | | | | | | | | 1 | | | | | | | 1 |
| OD | - Lebanon | | | | | 1 | | | 1 | 1 | | | | | | | | 3 |
| TA | - Turkey (Asia) | | | | | | | | 1 | 3 | 12 | | 4 | | | | | 20 |
| UA0 | - Asiatic Russia | | | | | | | | 38 | 4 | 79 | 15 | 17 | | | | | 153 |
| UK | - Uzbekistan | | | | | | | | 2 | | | 1 | 1 | | | | | 4 |
| UN | - Kazakhstan | | | | | | | | 5 | | 11 | 1 | 5 | | | | | 22 |
| VR2 | - Hong Kong | | | | | | | | | | 1 | | | | | | | 1 |
| VU | - India | | | | | | | | 2 | | | | | | | | | 2 |
| DXCC | countries MHz | 1200 | 430 | 144 | 70 | 50 | 28 | 24 | 21 | 18 | 14 | 10 | 7 | 5 | 3,6 | 1,8 | | |



Oceania: 7 DXCC-countries

| | | | | | | | | | | | | | | | | | | |
| --- | --- | --- | --- | --- | --- | --- | --- | --- | --- | --- | --- | --- | --- | --- | --- | --- | --- | --- |
| DXCC | countries MHz | 1200 | 430 | 144 | 70 | 50 | 28 | 24 | 21 | 18 | 14 | 10 | 7 | 5 | 3,6 | 1,8 | | total |
| C2 | - Nauru | | | | | | | | | | 1 | | | | | | | 1 |
| E5/S | - South Cook-Islands | | | | | | | | | | 1 | | | | | | | 1 |
| FO | - French Polynesia | | | | | | | | | | 1 | | | | | | | 1 |
| P2 | - Papua New Guinea | | | | | | | | | | 1 | | | | | | | 1 |
| VK | - Australia | | | | | | | | | | 5 | | 4 | | | | | 9 |
| YB | - Indonesia | | | | | | | | 7 | | 1 | | 1 | | | | | 9 |
| ZL | - New Zealand | | | | | | | | | | | | 2 | | | | | 2 |
| DXCC | countries MHz | 1200 | 430 | 144 | 70 | 50 | 28 | 24 | 21 | 18 | 14 | 10 | 7 | 5 | 3,6 | 1,8 | | |